Primavera Breathe Well Baby & Kids Balm, 30ml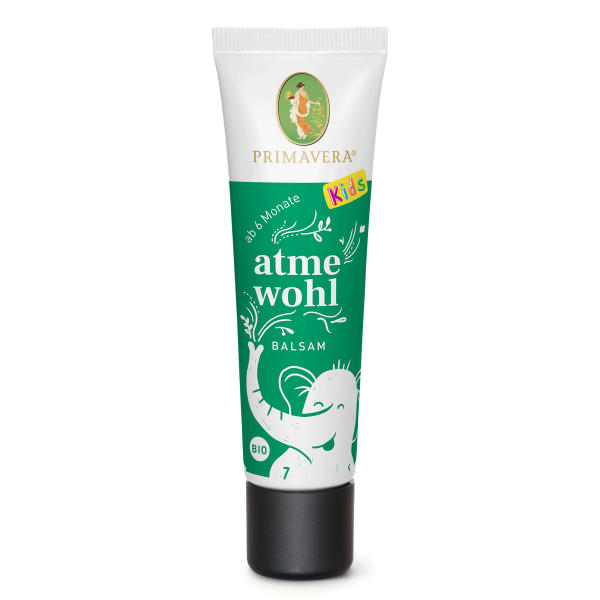 Primavera

Breathe Well Baby & Kids Balm, 30ml

€330.00 * / 1 Liter

Prices incl. VAT plus shipping costs

Order number: 4086900215603

Ready to ship today,
Delivery time appr. 1-3 workdays

Breathe Well Baby & Kids Balm, 30ml

Running noses and colds are not only part of children's development, they are also important developmental steps in which the immune system collects experience. That is why diseases should be accompanied with care. Atmewohl Baby & Kinder Balsam is an effective aid. Warming beeswax and valuable almond oil protect stressed skin and the pleasant scent of thyme, myrtle and cajeput strengthens, stimulates deep breathing and calms sleep. This has a positive effect on the immune system and helps children to recover.

Thyme | The gentle Thyme Linalool supports coughing and bronchial complaints.
Myrtle | A classic oil from aromatherapy to accompany colds in children.
Cajeput | What eucalyptus is for adults is cajeput for children. Gentle and effective.

Tip: Cold temperatures pose great challenges to the warmth organism of children. In order to keep the body temperature stable, the body relies on economy measures. For example, it reduces the blood flow to the mucous membranes. This makes children more susceptible to infections. So if you make sure that your child is always pleasantly warm during typical cold periods, you support his or her immune system.

Winter ritual: A nice ritual is a regular warming breast or back rub. It creates closeness and warms the body and heart.
Shipping, returns & packaging
Your order is ready for shipping within 24h
Secure shipping with DHL and FEDEX
Fast delivery to all EU countries and many other countries worldwide
Belladonna Beauty Deals
The current free articles. Please select on the shopping cart page
Ratings
Write an evaluation
Evaluations will be activated after verification.