I Want You Naked Aroma Bath Nettle & Ginger 620g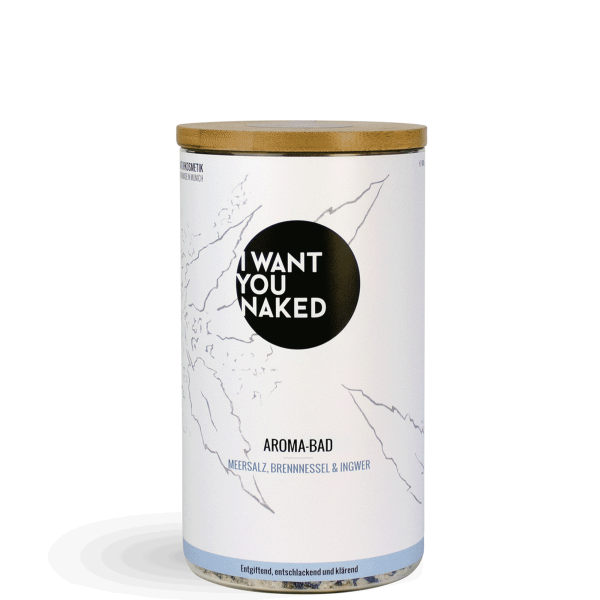 particularly suitable for

This product is currently not available.
€5.50 * / 100 Gramm
Prices incl. VAT plus shipping costs
Order number: 785983388931
Ready to ship today,
Delivery time appr. 1-3 workdays
I Want You Naked
Aroma Bath Nettle & Ginger 620g
Detoxifying bath. Dissolves toxins and tensions
Uniquely liberating and detoxifying. The combination of powerful medicinal plants with sea salt and Epsom salt containing magnesium releases toxins and tensions in the body, supported by the clarifying properties of nettle, ginger and cornflower. The fine oils of basil and ginger give the bath a lemony-fresh aroma. Compared to a conventional bubble bath, the salt supplies the skin with moisture, regulates the natural acid balance, protects it from drying out and prepares it for the absorption of important nutrients. Minerals and trace elements strengthen their protective mechanisms. The skin becomes soft and supple.
With nettle, nettle seeds, cornflower, hydrangea, lemon verbena and ginger.
This hand-prepared, detoxifying aroma bath contains the irrepressible power of nature and its great wealth of cleansing and caring oils, minerals, aromas and valuable plant ingredients. The formulation of nettle, ginger and cornflower blossoms, rich in healing and active ingredients, helps you to relieve tensions and toxins in your body. The combination of sea salt rich in minerals and Epsom salt containing magnesium contributes to detoxification and prepares the skin for the absorption of important nutrients. Fine essential oils of rosemary, ginger and lemon eucalyptus have a clarifying effect and give the aroma bath its lemony-fresh scent.
HOW TO USE: Enjoy the bath in the sea of flowers at 35-38°C for 20-25 minutes. Give the flowers, herbs and oils a few minutes to release the valuable scents and active ingredients into the warm water. Breathe in the aromas deeply, because the salted steam cleans the respiratory tract, has anti-inflammatory effects and promotes blood circulation in the lungs. If you want to do without flowers in the tub, you can use the enclosed cotton bag like a tea bag. For a bath we recommend 50-100 grams. By dispensing with surfactants, the bath does not foam.
WITHOUT synthetic fragrances, colours and preservatives. Without silicones, paraffins and raw materials based on mineral oil.
Purely natural contents, vegan and without animal experiments.
particularly suitable for