OZN Vegan OZN Nail Polish Remover Green Edition 100ml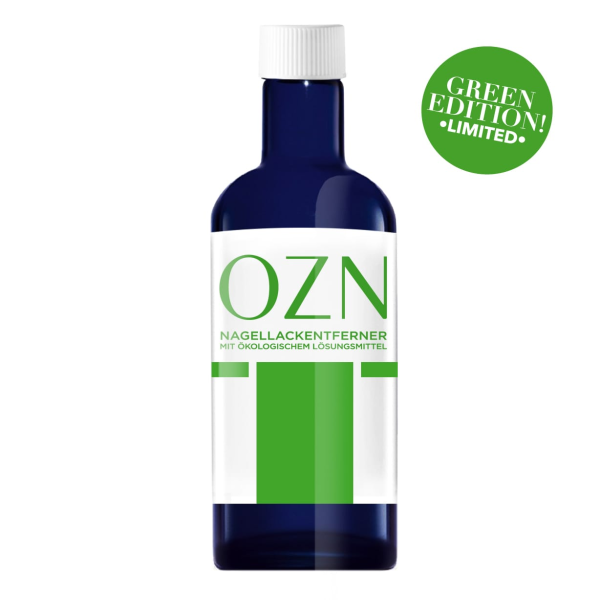 particularly suitable for

€0.15 * / 1 ml
Prices incl. VAT plus shipping costs
Order number: 4250897828898
Ready to ship today,
Delivery time appr. 1-3 workdays
OZN Vegan
OZN Nail Polish Remover Green Edition 100ml
With our limited OZN Nail Polish Remover GREEN EDITION, we are supporting environment protection and nature conservation in Germany. A part of the profit will be dontated to a large German Association, committed to ecological agriculture and healthy food, climate protection and the expansion of renewable energies, the protection of endangered species, the forest and water.
For the OZN Nail Polish Remover, we use dibasic ester (DBE). This solvent is a clear, colourless liquid, which has a pleasant, mild odour and is completely environmentally friendly. It is created through the reaction of acid and alcohol, while separating the water and does not require labelling as a hazardous substance.
Other ingredients are:
- E acetate Vitamin, an oily, odourless, water-insoluble liquid. This synthetic pro-vitamin E is not only used as an additive for cosmetics but also for the drug manufacturing.
- D-Phantenol / 50P is a compound also used as an active ingredient for the treatment of diseases of the skin and mucous membranes, and for medical skin care.
- Aloe vera gel, extracted from the water storaging tissue of aloe vera leaves. It has anti-inflammatory, wound healing and moisturizing features.
- Glycerin is a sugar alcohol. Due to the water-binding properties, glycerol is used in the manufacture of cosmetics as a moisturizer.
particularly suitable for