The Organic Pharmacy Carrot Butter Cleanser 75 ml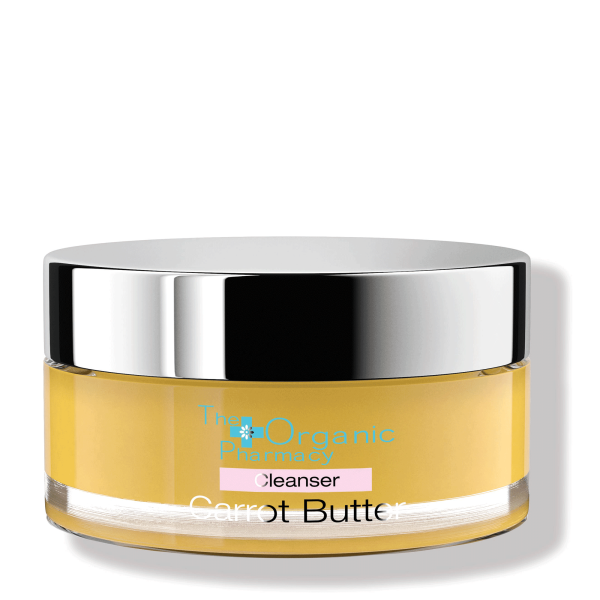 particularly suitable for
€66.60 * / 100 ml
Prices incl. VAT plus shipping costs
Order number: 5060063490397
Ready to ship today,
Delivery time appr. 1-3 workdays
The Organic Pharmacy
Carrot Butter Cleanser 75 ml
Evening Cleanse - What is it? Our ultimate best selling cleanser effortlessly removes grime, dirt, pollution and makeup (including eye make up) in one east step. Infused with Rosemary, Carrot and Shea Butter the skin is left comfortable, clean and incredibly soft.
Who can use it?All skin types, particularly oily skin as Carrot Butter Cleanser balances the oil production of the skin.
What does it do? Oil is the best medium to remove oil while balancing and maintaining the moisture levels of the skin. In Carrot Butter Cleanser Lavender Oil, Rosemary Oil, Wheatgerm Oil and Sunflower Oil work together to dissolve grease, grime, dirt, pollution and makeup. The skin is fully cleansed of the daily build up of impurities and left feeling incredibly soft, smooth and radiant.
Application: The most essential cleanse should be carried out at night, that is why we recommend Carrot Butter Cleanser as an evening cleanser. Remove a small amount of cleanser with the spatula provided. Rub the cleanser between clean hands and apply to dry skin massaging it in well. Soak a muslin cloth in hand hot water and remover cleanser. Finish with a splash of cold water to squeeze out any remaining impurities and to close the pores. (Do not use cotton wool as this will not remove cleanser effectively)
Tip:Use together with TOP muslin cloth 100% Organic Cotton.
Key Ingredients:
Carrot: Rich in Beta Carotene, this antioxidant oil protects from free radical damage.
Rosemary: Decongesting stimulating oil with excellent cleansing and antioxidant activity.
Lavender: Calming and soothing. Leaves skin and mind relaxed.
St Johns Wort: Superb healing and soothing activity. Stimulates cellular regeneration.
Shea Butter: Well known for its moisturising and anti inflammatory properties.
Jojoba: An extraordinarily and effective moisturiser rich in vitamins E & A.
particularly suitable for