Lakshmi

Eye serum Supercold, 10ml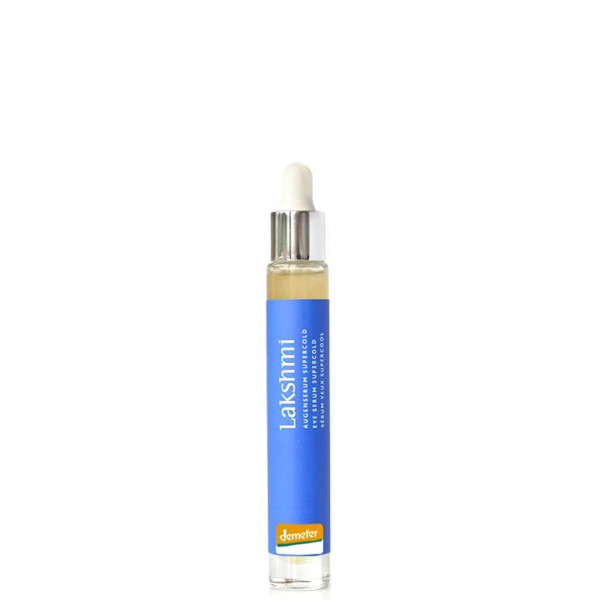 Lakshmi

Eye serum Supercold, 10ml

€4,490.00 * / 1 Liter

Prices incl. VAT plus shipping costs

Order number: 4037206120238

Ready to ship today,
Delivery time appr. 1-3 workdays

Lakshmi

Eye serum Supercold, 10ml

The Lakshmi Eye Serum provides the sensitive skin around the eyes with sufficient lipids and increases the elasticity of the cells. The strengthened cells can thus store moisture again. The entire eye area becomes firmer and eye wrinkles are noticeably reduced. Crow's feet can be smoothed and dark circles under the eyes as well as puffiness are reduced by the relaxing effect. Plant extracts such as eyebright, aloe vera, mint and cistus provide the cells with many nourishing substances that are regenerating and vitalising for the fine skin around the eyes and for the eyes themselves. Your eyelashes also benefit from this due to increased eyelash growth.

Symptoms of fatigue, redness and burning of the eyes, which are caused today by the constant overload at the computer and in air-conditioned rooms, often disappear completely after just a few applications. The natural camphor contained in the two eye serums Cold and Supercold has a particularly refreshing and disinfecting effect. The astringent effect makes redness disappear more quickly and ensures radiant eyes through active tear production.

Application:

Daily before bedtime, 1-2 drops per eye for inside and outside.

By applying overnight you get an optimal care effect. The deep effect is supported and strengthened by the long application time and the regenerating effect of sleep.

Drop 1-2 drops per eye onto a clean finger and gently sweep inside the lashes from the inside out. Then gently spread over the entire eye area and gently pat into the skin.

This way you handle sparingly and the oil remains sterile. Since there is ghee and coconut oil in the eye serum, there may be cloudiness at the bottom with the herbs. Just shake well before each extraction.

The oil should also get into the eyes, this helps regenerate the eyes overnight. Due to the castor oil, rather than from the camphor, there may be a slight burning sensation , but this passes quickly. The serum oil can be used up to the end. If the cloudiness at the end is unpleasant in the eye, use the serum only externally, for eyelid and eyelashes.
Shipping, returns & packaging
Your order is ready for shipping within 24h
Secure shipping with DHL and FEDEX
Fast delivery to all EU countries and many other countries worldwide
Belladonna Beauty Deals
The current free articles. Please select on the shopping cart page
Ratings
Write an evaluation
Evaluations will be activated after verification.