Primavera Gift Set First Aid Kit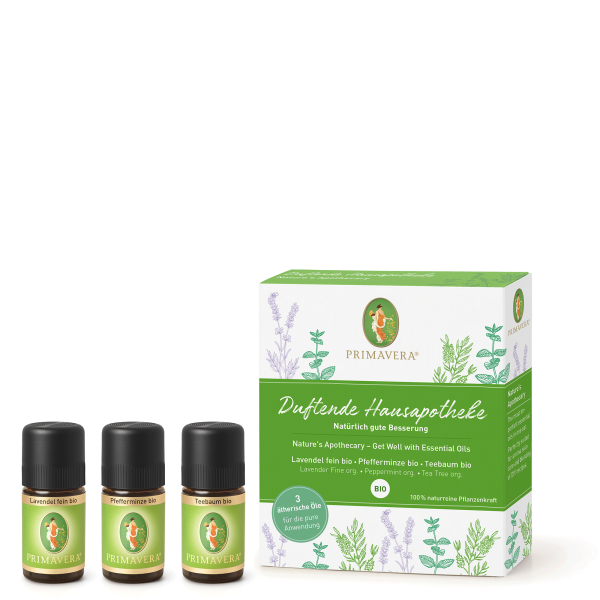 particularly suitable for

Prices incl. VAT plus shipping costs
Order number: 4086900444805
Ready to ship today,
Delivery time appr. 1-3 workdays
Primavera
Gift Set First Aid Kit
The three most important essential oils in one set: lavender, peppermint and tea tree. The constant companions for your medicine chest and for all cases. The ideal set for on the go and as a gift. The three essential oils are particularly well suited as an introduction to aromatherapy, as they cover a wide range of different needs and can help to care for many aches and pains. The selective pure application on the skin is possible in acute cases. Now in a modern, fragrant design and at a special price.
Peppermint organic
Already in ancient times peppermint was known as an excellent remedy. The scent is determined by the main ingredient menthol. Menthol is also responsible for the cooling freshness effect. In case of skin contact, e.g. in the form of a body rub or roll-on application, blood circulation is stimulated, followed by a vitalising feeling of cold. Furthermore, essential peppermint oil is particularly helpful and soothing for gastrointestinal complaints such as flatulence, nausea and vomiting. A loving massage with essential peppermint oil, for example in organic almond oil, soothes the stomach and relaxes the digestive tract. In addition, the scent of peppermint has a stimulating and refreshing effect. The fragrance supports clear thinking, increases concentration and awakens.
Lavender fine organic
The oil is regarded as the most important and most popular oil in aromatherapy and care. Due to its extensive effect, essential lavender oil is an all-rounder. Lavender is sometimes referred to as "the pharmacy in a bottle". The scent of lavender oil is fresh and herbaceous-floral. The special feature of the oil is that lavender can be stimulating and refreshing as well as relaxing and soothing for stress. Thus the oil is able to soothe extremes on a physical and mental level and restore balance. Lavender oil is also a particularly effective and quick help for burns, many skin problems, but also for sleep problems.
Organic Tea Tree
Due to its cleansing, clarifying and skin regenerating effect, essential tea tree oil is particularly frequently used in the care of skin impurities such as pimples and acne as well as in wound treatment. It provides rapid relief from insect bites and itching and helps to accelerate the decongestation of irritated and stressed skin. In addition, the oil is also suitable for oral care as it is antibacterial and promotes skin regeneration in gingivitis. On a psychological level, the scent of the oil has a stabilising and vitalising effect.
particularly suitable for