Urban Cosmetics

VELVET Body and Massage Oil 100ml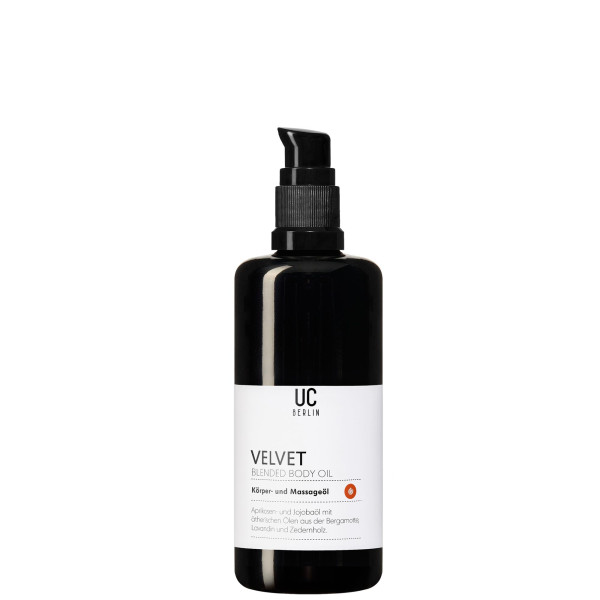 Urban Cosmetics

VELVET Body and Massage Oil 100ml

€174.50 * / 1 Liter

Prices incl. VAT plus shipping costs

Order number: 049841463865

Ready to ship today,
Delivery time appr. 1-3 workdays

Urban Cosmetics

VELVET Body and Massage Oil 100ml

With Velvet comes the time of tenderness. A body and massage oil made from jojoba and apricot kernel oil and the scents of bergamot, lavandin and cedar wood.

Don't you just long for fragrances that make you forget the daily grind for a moment? Velvet is our newest formulation for a body and massage oil. Why sensual and soothing? Together with the invigorating bergamot, a hint of the stimulating yet relaxing lavandin (depending on your state of mind) and the grounding, woody aroma of cedarwood, it's a "happily ever after" oil. Our Blended Body Oil.

Whether after a shower, bath or with a mutual pampering massage, you can treat yourself and each other to a wonderful time-out with this oil. For the SPA at home. If not now, when? The jojoba and apricot kernel combination opens the pores and not only makes them ready for the active ingredients, but also provides a soft, sensitive skin feeling.

The combination of essential oils is an essential factor for the all-round happy package. Because the effect on the psyche in particular should not be underestimated. This makes them our heroes, which play a very important role in aromatherapy. We see body and soul as one, as a whole. This oil should calm you down, relax you, but at the same time also activate you and thus conjure a smile on your lips.
Shipping, returns & packaging
Your order is ready for shipping within 24h
Secure shipping with DHL and FEDEX
Fast delivery to all EU countries and many other countries worldwide
Belladonna Beauty Deals
The current free articles. Please select on the shopping cart page
Ratings
Write an evaluation
Evaluations will be activated after verification.