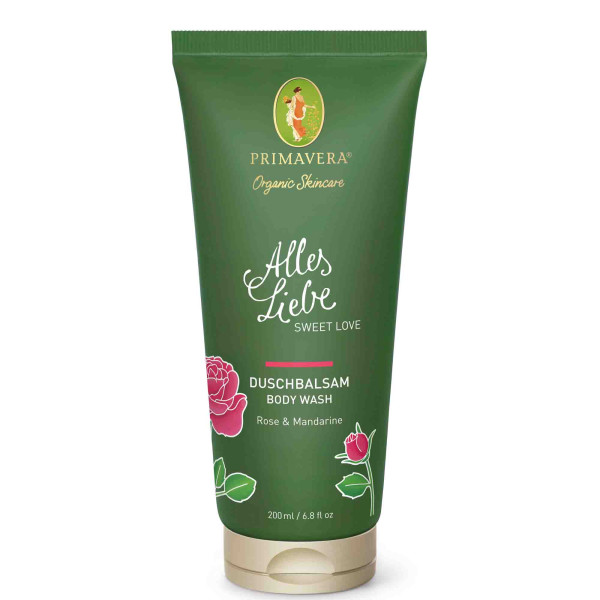 Primavera

Shower balm All Love, 200ml

Shower balm All Love, 200ml

The creamy shower balm gently cleanses and gives pure harmony and joy with its pampering fragrance of organic rose and organic tangerine.

Let yourself be pampered and feel good in your skin. Experience a fragrant care ritual and all-natural organic plant power with the creamy shower balm All Love. With a sensually fragrant composition of selected plant extracts from organic orange blossom water, organic chia seed oil and organic olive oil, it pampers the senses, and cleanses particularly skin-friendly and pH-neutral with mild sugar surfactants. Gently massaged into the still damp skin and then rinsed off well, the shower balm All Love preserves the natural moisture of the skin and has a refatting effect. Its indulgent fragrance of organic rose and organic mandarin envelops you sensually, refreshes and gives you pure harmony and joy.

Organic Orange Blossom Water: The orange blossom water has a delicate floral scent and soothes the skin and senses. It also refines the complexion and is soothing for reddened skin.
Organic chia seed oil: Chia seeds are known as a superfood and also have a high effect in cosmetics. Since it has a very high content of omega-3 and omega-6 fatty acids.
Organic rose oil: Especially skin caring, it promotes cell renewal. The rose aroma provides inner harmony.
Organic tangerine oil: The scent has a mood-lifting and refreshing effect.
Shipping, returns & packaging
Your order is ready for shipping within 24h
Secure shipping with DHL and FEDEX
Fast delivery to all EU countries and many other countries worldwide
Belladonna Beauty Deals
The current free articles. Please select on the shopping cart page
Ratings
Write an evaluation
Evaluations will be activated after verification.