Merme

Facial Anti Oxidant Mist, 100 ml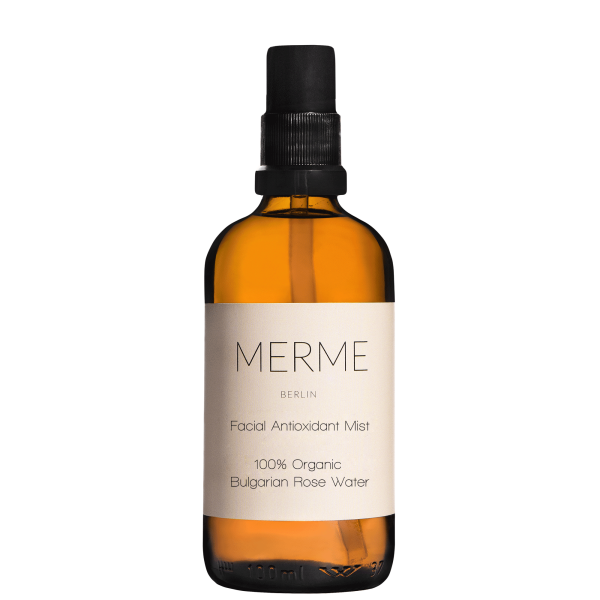 | | |
| --- | --- |
| Skin type: | Combination Skin, Dehydrated skin, Dry Skin, Mature Skin, Oily Skin, Sensitive Skin |
| Your need: | Acne |
| Vegan: | Yes |
| Perfume Free: | Ja |
Merme

Facial Anti Oxidant Mist, 100 ml

€270.00 * / 1 Liter

Prices incl. VAT plus shipping costs

Order number: 676424368158

Ready to ship today,
Delivery time appr. 1-3 workdays
| | |
| --- | --- |
| Skin type: | Combination Skin, Dehydrated skin, Dry Skin, Mature Skin, Oily Skin, Sensitive Skin |
| Your need: | Acne |
| Vegan: | Yes |
| Perfume Free: | Ja |
Merme
Facial Anti Oxidant Mist, 100 ml
A pure, soothing and hydrating water, rich in antioxidants that strengthen, firm and tone skin cells. Skin feels instantly refreshed and pores are cleared of dirt residue and excess oil. The organic rose water can keep skin prone to acne clean throughout the day due to its antibacterial properties.
MERME's Facial Antioxidant Mist gently hydrates the skin and absorbs instantly without leaving a residue. It can be used for all skin types, especially sensitive, irritated or acne-prone skin.
Vitamin B3 Against redness, soothing and calming
Applied on the surface, Vitamin B3 is the remedy of choice to heal irritated skin due to its calming properties. Powerful antioxidants strengthen the skin's natural protection and prevent inflammation and blemishes in the complexion. B3 is particularly effective because it fights acne in the early stages (sebum oxidisation) before pimples can even form.
Vitamin A fights aging
Also known as beta-carotene, vitamin A is key to cell development. Found in most anti-aging treatments for wrinkles. Found in all red fruits and vegetables.
Vitamin C The Collagen Producer
Vitamin C or ascorbic acid is an antioxidant that promotes tissue growth and produces collagen. In addition, it helps lighten pigmentation and dark spots.
Vitamin D The natural protection of the skin
Removes lime residues that get into the face through water. It also protects the skin from environmental damage (such as air pollution and UV damage) by helping the skin renew cells.
Vitamin E for moisture
Fights dryness and helps the skin balance its natural oils. It strengthens the skin's own protective function against harmful UV rays and replenishes the skin's moisture reservoir after showering or aggressive chemicals.
Shipping, returns & packaging
Your order is ready for shipping within 24h
Secure shipping with DHL and FEDEX
Fast delivery to all EU countries and many other countries worldwide
Belladonna Beauty Deals
The current free articles. Please select on the shopping cart page
Ratings
Write an evaluation
Evaluations will be activated after verification.