Urban Cosmetics

No. 3 Gentle Face Oil 50ml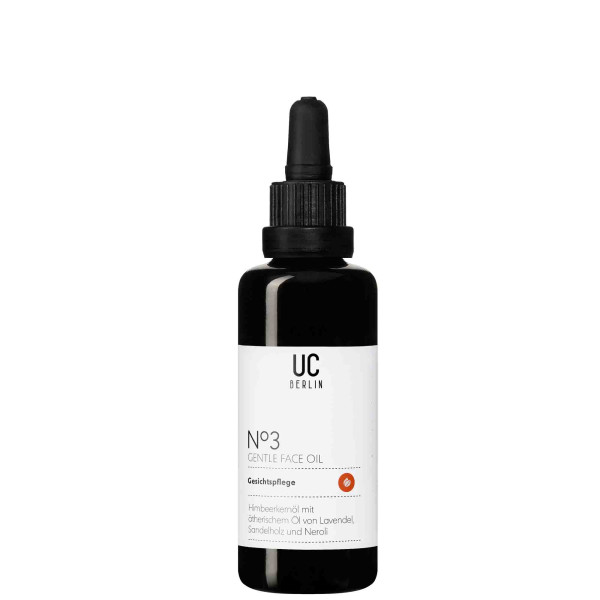 | | |
| --- | --- |
| Skin type: | Combination Skin, Dry Skin, Mature Skin, Normale Haut, Oily Skin |
| Vegan: | Yes |
Urban Cosmetics

No. 3 Gentle Face Oil 50ml

€956.00 * / 1 Liter

Prices incl. VAT plus shipping costs

Order number: 0791102492243

Ready to ship today,
Delivery time appr. 1-3 workdays
| | |
| --- | --- |
| Skin type: | Combination Skin, Dry Skin, Mature Skin, Normale Haut, Oily Skin |
| Vegan: | Yes |
Urban Cosmetics
No. 3 Gentle Face Oil 50ml
This oil with ingredients from 100% organic farming is as light as its fragrance and leaves your skin silky soft without leaving a greasy film.
The lipid layer protects the skin from dehydration and environmental influences and keeps it elastic and resistant. The valuable contained raspberry seed oil is very similar to the human lipid structure, builds it up and is not too greasy. Raspberry seed oil is considered the anti-aging oil par excellence: polyunsaturated fatty acids, vitamins A and E and especially the secondary plant substances supply the skin with nutrients. The high content of linoleic and linolenic acid ensures wrinkle-free, elastic skin. It helps it to store moisture, regulates sebum production and protects against environmental influences. Raspberry seed oil is the only vegetable oil that absorbs not only UVA but also UVB radiation.
The essential oil from sandalwood revitalizes tired skin and stores moisture. It supports against skin impurities, skin flakes and redness. Emotionally it has a balancing and strengthening effect.
There is not much to add to the precious cold-pressed raspberry seed oil from controlled organic cultivation with its effective active ingredients.
We have therefore decided to add three exquisite essential oils with a delicate fragrance and particularly skin-friendly properties. True to our motto: Give your skin what it really needs.
Raspberry seed oil (organic), cold pressed
Raspberry seed oil has amazing properties. These are so extensive that they are listed in the following.
+ Is often referred to as the "fountain of youth" of the skin
+ Promotes the suppleness/softness of the skin
+ Reduces wrinkles
+ Antioxidant
+ Regenerates skin cells
+ Anti-inflammatory
+ High content of polyunsaturated fatty acids (e.g. linoleic acid 39%, linolenic acid 25%, petroselinic acid 1%, omega-3 and omega-6 fatty acids)
+ Rich in antioxidants, vitamins A and E
+ Rich in natural retinol
+ Natural sun protection









To produce one litre of this precious raspberry seed oil you need about 10 kg raspberry seeds from about 800 kg raspberries.
Essential oil from sandalwood (organic)
Australian sandalwood oil (Santalum Spicatum) is particularly valuable, revitalizes tired skin and stores moisture.
It helps with acne, skin flakes and redness and is also very well tolerated and skin caring, which is due to the enormously high content of sesquiterpenols. Emotionally it has a balancing and strengthening effect. In Eastern cultures the gentle, woody, balsamic scent is considered sacred.
Essential oil of lavender (organic)
The healing powers of real lavender are extremely versatile. Thanks to the high proportion of camphor, cell regeneration is stimulated; scars, for example, can heal faster. The contained linalool is anti-inflammatory and is therefore used for acne and application. Lavender scent has been proven to have a calming effect.
Essential oil from neroli (organic)
Neroli oil is extracted from the white flowers of the bitter orange and is one of the most exclusive oils of all. This is not surprising,
since one litre of essential oil requires one ton of orange blossoms. Neroli has a strong circulation-promoting effect, which supplies the skin cells with oxygen and other nutrients. It also has an antibacterial and anti-inflammatory effect.
Neroli oil has proven itself in the treatment of acne and mild inflammation. The unique floral-lemon scent of neroli oil
lifts the mood and is said to stimulate the pineal gland function.



Note: We deliberately do not state a sun protection factor, as this oil combination should not be used as a primary sun and light protection.
Packaging: 50 ml violet glass with pipette in a cotton bag, deposit bottle
Shipping, returns & packaging
Your order is ready for shipping within 24h
Secure shipping with DHL and FEDEX
Fast delivery to all EU countries and many other countries worldwide
Belladonna Beauty Deals
The current free articles. Please select on the shopping cart page
Ratings
Write an evaluation
Evaluations will be activated after verification.