Coeur de Beauté

Intensive Serum Repair & Protect, 30ml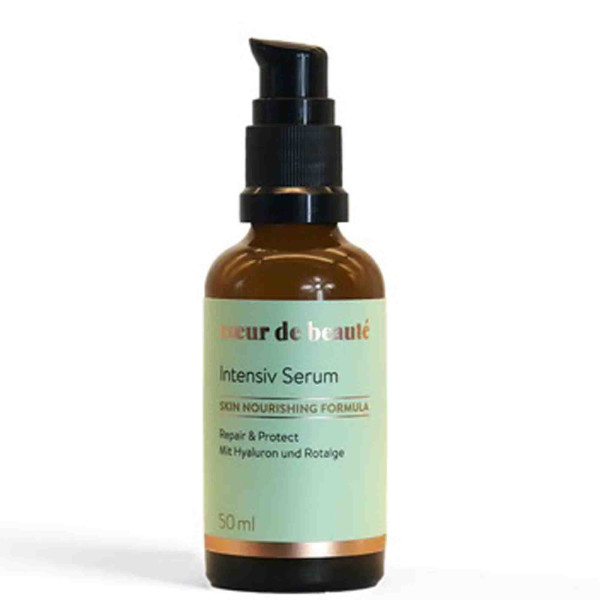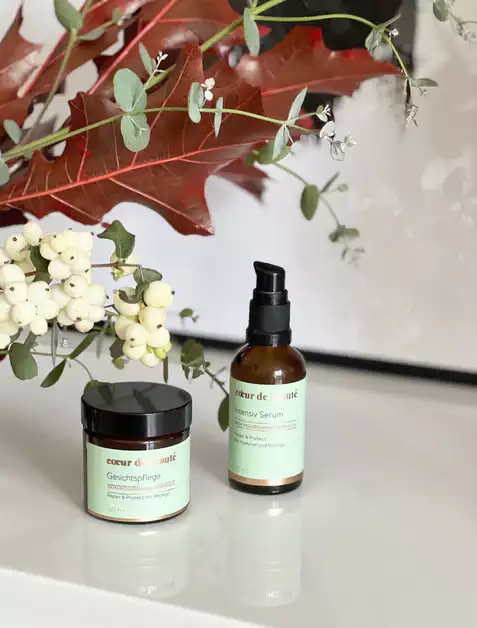 | | |
| --- | --- |
| Skin type: | Dehydrated skin, Dry Skin, Mature Skin, Normale Haut, Sensitive Skin |
| Your need: | Redness | Rosacea |
| Vegan: | Yes |
| Perfume Free: | Ja |
Coeur de Beauté

Intensive Serum Repair & Protect, 30ml

Prices incl. VAT plus shipping costs

Order number: 724696658702

Ready to ship today,
Delivery time appr. 1-3 workdays
| | |
| --- | --- |
| Skin type: | Dehydrated skin, Dry Skin, Mature Skin, Normale Haut, Sensitive Skin |
| Your need: | Redness | Rosacea |
| Vegan: | Yes |
| Perfume Free: | Ja |
Coeur de Beauté
Intensive Serum Repair & Protect, 30ml
Our intensive serum with red algae & hyaluron for daily strengthening care against skin aging.
Slow Age for sensitive skin with the power of the sea
The combination of red algae, aloe vera, hyaluron and probiotics strengthen and protect your skin barrier. The anti-aging serum is absorbed quickly and deeply into the skin and ensures a healthy complexion. If you have very irritated and sensitive skin, the serum brings your skin back into a healthy balance.
Our serum with red algae with 4-fold effect:
Red algae strengthens and stabilizes your skin's protective barrier as well as smoothes your skin and reduces small wrinkles. It activates the natural protective function of your skin and promotes a healthy mix of microorganisms on your skin.
Aloe Vera has a moisturizing and soothing effect.
The effective blend of high, medium and low molecular weight hyaluronic acid tightens and regenerates dehydrated skin and helps diminish wrinkles.
The probiotics in our Hyaluronic Acid Serum are designed to protect sensitive skin. The microorganisms activate the skin's natural protective function, thereby soothing it and strengthening the skin barrier.


Shipping, returns & packaging
Your order is ready for shipping within 24h
Secure shipping with DHL and FEDEX
Fast delivery to all EU countries and many other countries worldwide
Belladonna Beauty Deals
The current free articles. Please select on the shopping cart page
Ratings
Write an evaluation
Evaluations will be activated after verification.