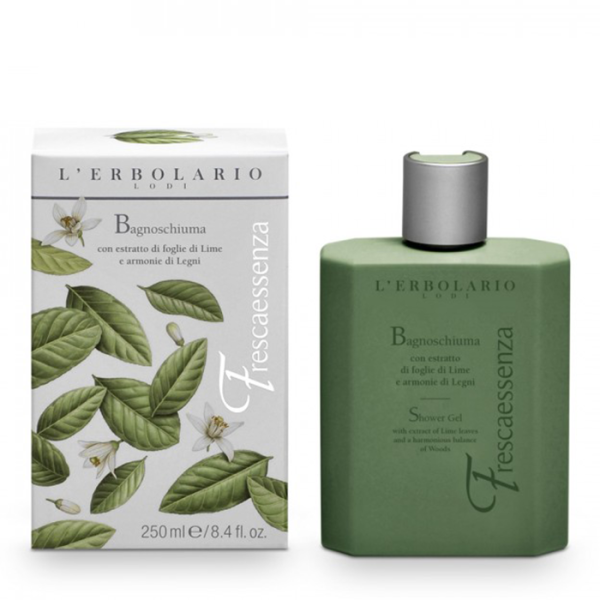 Erbolario

Frescaessenza Shower Gel 250ml

€67.60 * / 1 Liter

Prices incl. VAT plus shipping costs

Order number: 8022328117729

Ready to ship today,
Delivery time appr. 1-3 workdays

Frescaessenza Shower Gel 250ml

L'Erbolario Frescaessenza Shower Gel with extract of Lime leaves and a harmonious balance of Woods

A delicate and invigorating harmonious blend, a gentle yet vivacious sensation of well-being, the appeal of a fragrance that lights up your senses and makes the chords of your soul vibrate: this is the sensation that washes over you when you immerse yourself in the soft foam of Frescaessenza.

The extracts of Lemon leaves and twigs and Lime leaves offer a toning and refreshing action, while the extracts of Larch and Mimosa tenuiflora bark help your skin stay supple. On top of all of this, lastly, there is hydrolyzed Quinoa protein, whichenvelops your skin with a fine, protective layer, ensuring the perfect level of moisturization. Characteristic functional substancesExtracts of Lemon leaves and twigs, Lime leaves, Larch and Mimosa tenuiflora bark, hydrolysed Quinoa protein.
Shipping, returns & packaging
Your order is ready for shipping within 24h
Secure shipping with DHL and FEDEX
Fast delivery to all EU countries and many other countries worldwide
Belladonna Beauty Deals
The current free articles. Please select on the shopping cart page
Ratings
Write an evaluation
Evaluations will be activated after verification.