Merme

Facial Hydration Serum, 30 ml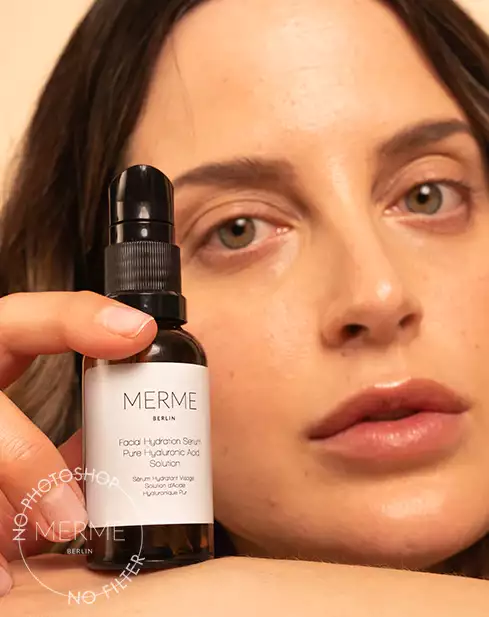 | | |
| --- | --- |
| Skin type: | Combination Skin, Dehydrated skin, Dry Skin, Mature Skin, Normale Haut, Oily Skin, Sensitive Skin |
| Vegan: | Yes |
| Perfume Free: | Ja |
Merme

Facial Hydration Serum, 30 ml

€1,133.33 * / 1 Liter

Prices incl. VAT plus shipping costs

Order number: 676424368189

Ready to ship today,
Delivery time appr. 1-3 workdays
| | |
| --- | --- |
| Skin type: | Combination Skin, Dehydrated skin, Dry Skin, Mature Skin, Normale Haut, Oily Skin, Sensitive Skin |
| Vegan: | Yes |
| Perfume Free: | Ja |
Merme
Facial Hydration Serum, 30 ml
MERME's Hyaluronic Acid is formulated in its purest and highest concentrated form at 1%. Hyaluronic Acid is extremely hydrating, has a calming effect, and will instantly plump and firm the skin. It promotes smoothness, elasticity and supports the skin's natural protective barrier. Once applied, it forms a lightweight film that holds moisture on the skin's surface to promote smoothness, elasticity and supports the skin's natural protective barrier.
Hyaluronic Acid is the most hydrated biopolymer known and works as a connective tissue organiser with skin. For the outer layers of skin, a certain hydration level is essential for elasticity, smoothness and renewal. The lightweight film that HA forms on the topical layers of the skin also reduces irritating and negative environmental factors.
Its hydrating abilities are thanks to HA's molecule structure that allows it to hold up to 1000 times its weight in water. HA is found naturally in all bones and cartilage structures of the body, however, this along with collagen and elastin, decreases with age resulting in drying and ageing skin.
Why a 1% solution? This mixing ratio is considered "pure" as it is the highest possible level of hyaluronic acid on the market and extremely effective. Products containing, for example, "75% hyaluronic acid" all have a 1% solution as an HA ingredient and are then further formulated.
Directions
In the morning, in the evening or as a primer apply 1-2 pump strokes to the cleansed skin. Suitable for all skin types. Avoid direct contact with the eyes.
Shipping, returns & packaging
Your order is ready for shipping within 24h
Secure shipping with DHL and FEDEX
Fast delivery to all EU countries and many other countries worldwide
Belladonna Beauty Deals
The current free articles. Please select on the shopping cart page
Ratings
Write an evaluation
Evaluations will be activated after verification.