We Love The Planet

Deo-Stick So Sensitive, 65g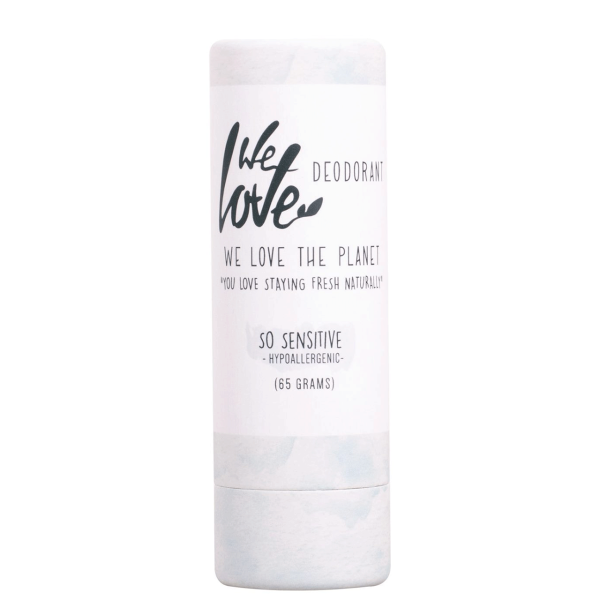 €198.46 * / 1 Kilogramm
Prices incl. VAT plus shipping costs
Order number: 8719324977159
Ready to ship today,
Delivery time appr. 1-3 workdays
We Love The Planet
Deo-Stick So Sensitive, 65g
We Love Deodorant. Provided 100% natural! Our deodorant contains no synthetic and polluting ingredients that are bad for your skin and our planet.
The natural ingredients of our deodorants have a soothing and moisturizing effect. The soft deodorant is quickly absorbed by the skin and does not clog pores. It helps you stay fresh in a natural way! We Love The Planet deodorants are Eco-Control and Natural Cosmetics Standard certified.
The effect
Each of our deodorants is based on a combination of beeswax, coconut oil and corn starch powder.
This makes the deodorant easy to spread and makes your skin velvety soft. In addition to our five proven varieties Sweet Serenity, Forever Fresh, Original Orange, Lovely Lavender & Mighty Mint, we are expanding our range with the new variant So Sensitive! This is a variety without baking soda and without essential oils. Therefore it is extra gentle for sensitive skin!
So Sensitive - The natural care for sensitive skin!
The variety So Sensitive is specially developed for people with hypersensitivity. Some people may be allergic to sodium bicarbonate and essential oils. This deodorant does not contain baking soda, but a hypoallergenic perfume. Its fragrance is gentle, as is the cream itself.
The deodorant So Sensitive has a delicate scent of green leaves, almond and white peony. It is a gentle blend, perfectly complemented by heliotrope leaves, violets, vanilla and apricot blossoms. The result is a very light and pleasant fragrance, which is already very popular - not only among allergy sufferers!