I+M Aqua Boost Serum Aloe Hyaluron 30ml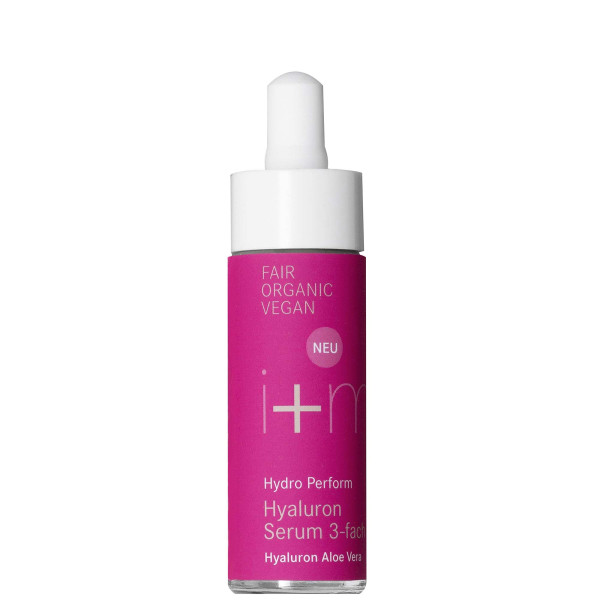 particularly suitable for
Normal Skin

Dry Skin

Combination Skin

I+M
Aqua Boost Serum Aloe Hyaluron 30ml
Moisturizing, revitalizing, smoothing
The hyaluronic serum triple is considered an instant freshness miracle thanks to its highly concentrated active ingredients and cold-pressed, fair-trade organic oils. A high-quality combination of low-, medium- and high-molecular hyaluronic acids intensively moisturizes the skin and makes it look smoother, plumper and firmer.
Three types of hyaluronic acids
Hyaluron is a natural component of the skin and ensures its elasticity and resilience. The body's own hyaluron production decreases with increasing age, but can be compensated for from the outside. Various hyaluronic acids are used in our serum for maximum effect: High molecular hyaluronic acid lies as a fine film on the skin, binds moisture and also prevents its evaporation. While the medium and low-molecular hyaluronic acids penetrate deeper into the skin and bind moisture there.
Aloe Vera, pomegranate seed oil and butterfly lilac
In addition to hyaluron, fair trade aloe vera provides an extra portion of moisture. Pomegranate seed oil tightens the skin and offers protection against free radicals. Butterfly lilac has an anti-oxidant effect and also offers Anti Blue Light protection against skin damage caused by blue screen light. The floral scent of rose and jasmine bewitches the senses.
particularly suitable for
Normal Skin

Dry Skin

Combination Skin